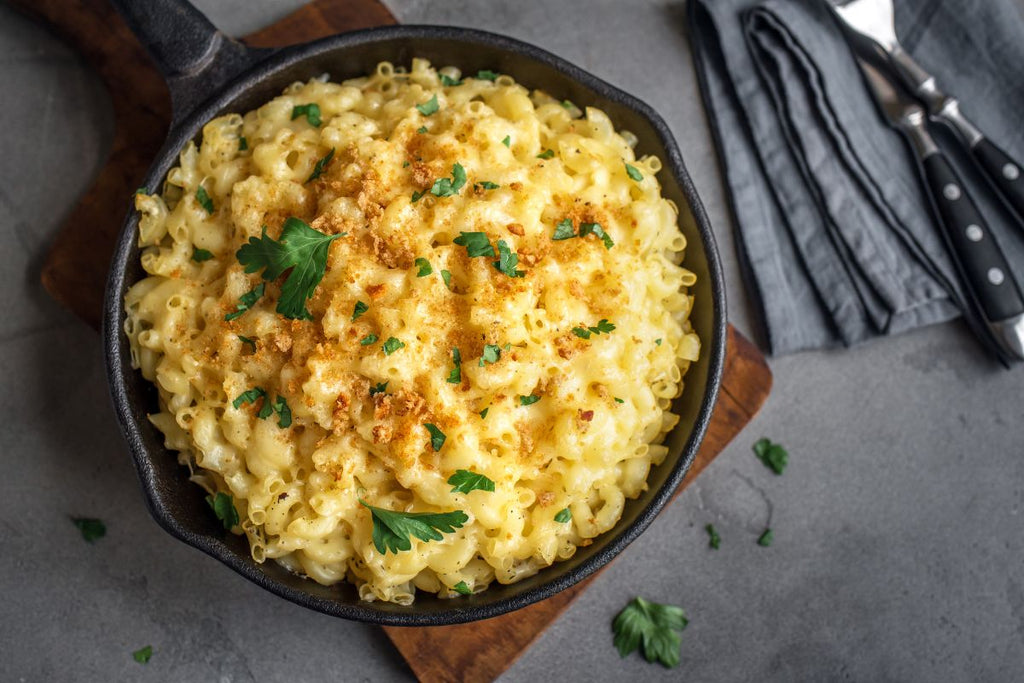 If you are a dry herb vape enthusiast like ourselves, probably you are often left with some good AVB in your vaporizer. So why not put those extras into good use?! If you don't already know, AVB stands for "already vaped bud."
We would like to share a savory recipe to use your AVB, The perfect comfort food: Mac n' Cheese - with homemade AVB infused cheese sauce.
Yes, we are talking about everyone's favorite, the famous Mac n' Cheese.
Mac n' Cheese can be simple and heartwarming, just like it can be a gourmet dish, infused with all kinds of unique, fancy cheese speciality…
Or it could be your ticket to the clouds if you try our tasty AVB infused homemade cheese sauce.
Since Mac n' Cheese is rich in fat, it makes cannabis compounds from AVB will dissolve perfectly in the sauce.
Also, you will see in the ingredients that butter is the base of the cheese sauce, so you can use your cannabutter here as well if you already have some.
Just keep in mind, using cannabutter and adding AVB to the sauce as well can deliver a much more potent result.
For first timers, we recommend using one or the other (cannabutter, or AVB), and then later, when you know what to expect, you can play more freely how you add your AVB.
In this recipe, we suggest using water-cured AVB, which you can use as-is or grind even more to a powder-like substance. 
Mac n' Cheese - with homemade AVB infused cheese sauce
Ingredients:
1 box of macaroni or any kind of pasta you prefer

1/4 cup (32g) butter

1/4 cup (32g) all purpose flour

2 cups (400 ml) milk

2 cups (256g) shredded cheddar cheese

3-4 g of AVB (depending on your tolerance)

Salt, pepper for seasoning
Pasta 
Bring a large pot of water to boil and add the pasta.
Stir and check often, but it will be ready around 10 minutes, depending on your pasta.
Try it and when it is soft, but not mushy it's ready.
Drain the pasta, when it is cooked and set it aside.
You can grease it by adding and mixing a little bit of butter so it won't stick together. (optional)
Cheese Sauce 
Melt the butter in a pot on low heat.

When it is completely melted add the flour and the AVB and keep the low heat because you don't want that mixture bubbly and burning.

Stir the mixture continually while adding the milk slowly.

The milk will heat up as well and your mixture will start to thicken a little bit. Keep steering and start adding the shredded cheese.

Continue stirring while you are seasoning it with salt and pepper or other choices of spices.

When the cheese is melted and you see a few bubbles add the pasta and mix it all together.

Serve it by itself or as a side dish.
Tips and Tricks
Make sure you are keeping the low heat and stirring it all time so don't let the mixture reach boiling point, because milk can get burned easily.
Spice up your Mac n' Cheese with smoked paprika, or chili powder. If you love spicy add chopped jalapeños. - Super bomb!
Enjoy!