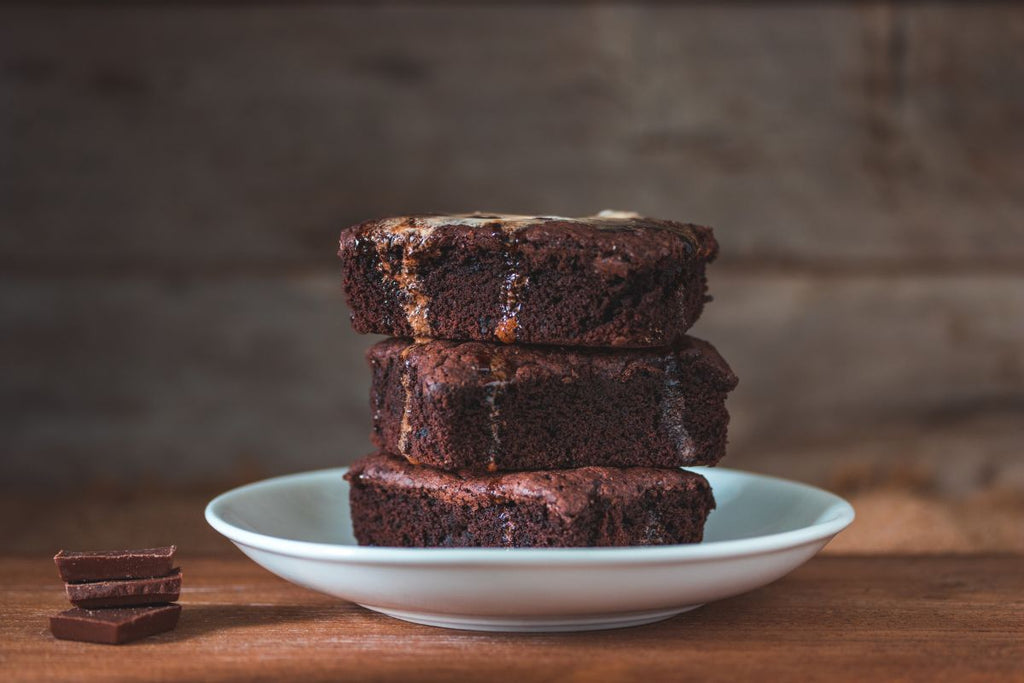 Adding CBD to brownies makes them even more appealing, so you may want to quadruple the quantity! There is more to CBD brownies than simply a tasty treat or anytime snack. There are a slew of advantages to using CBD oil in your cooking. These decadent brownies are chock full of taste and texture, plus they're infused with CBD for added health benefits.
It's simple to include CBD into your everyday routine by ingesting broad-spectrum CBD. While CBD candies and other pre-made sweets may be purchased, preparing your own edibles using CBD recipes is a fun way to consume CBD. 
You may feel good about supporting your entire well-being with every mouthful of CBD brownie. Relieve tension and anxiety by savoring these scrumptious morsels that are sure to put a smile on your face. 
After a hard exercise, reward yourself with these CBD brownies. As an added advantage, CBD may be used to ease moderate pain or muscular soreness after strenuous physical exercise, such as running or weightlifting.
CBD Brownie Recipe using CBD Oil
INGREDIENTS
1 ½ cups sugar

¾ cup all-purpose flour

⅔ cup cocoa powder

½ cup powdered sugar

½ cup bittersweet chocolate chips (optional)

½ cup walnuts (optional)

½ teaspoons salt

2 large eggs

½ cup vegetable oil

2 tablespoons water

3 teaspoons vanilla

10 ml CBD oil
COOKING STEPS
Preheat the oven to 325°F. Line an 8x8 baking dish with parchment paper and coat with nonstick spray.

In a medium bowl, combine the dry ingredients: sugar, all-purpose flour, cocoa powder, powdered sugar, chocolate chips, walnuts, and salt.

In a large bowl combine the wet ingredients: whisk the eggs, vegetable oil, water, vanilla, and CBD oil.

Combine the dry and wet ingredients and mix until just combined.

Pour the brownie batter into your prepared baking dish, using a spatula to smooth the top.

Bake for 40 to 50 minutes. The brownies are done when a toothpick comes out nearly clean.

Let cool before serving.
CBD Brownie Recipe using Cannabutter
INGREDIENTS
10 tablespoons (140g) CBD-rich cannabutter made with butter or coconut oil

1-1/4 cups (250g) granulated sugar

3/4 cups (65g) unsweetened cocoa powder (natural or Dutch-processed)

1/4 teaspoon kosher salt

1/2 teaspoon pure vanilla extract

2 large eggs, cold

1/2 cup (65g) all-purpose flour

2/3 cup (75g) walnut or pecan pieces, toasted (optional)
Yield: 36 bite-size servings
COOKING STEPS
Step 1: Prepare a baking pan
Prepare the oven to 325 degrees Fahrenheit. Line the bottom and edges of a square baking pan that is 8 by 8 inches with parchment paper or aluminum foil. This will make it much simpler to remove the brownies from the pan after baking.
Editor's Tip: If you want the parchment to fit perfectly, the quickest method to do it is to cut two sheets of paper to be the same width as the baking pan. Crease the four corners of the sheet to help it remain in position in the baking pan, then set it inside. In order to cover the pan on all four sides, add a second sheet that is positioned perpendicular to the previous one.
Step 2: Melt the butter
In order to prepare the foundation for these CBD brownies, place the cannabutter, sugar, cocoa powder, and salt in a medium bowl that can withstand heat. In this stage, you should use ordinary butter or vegetable oil instead of cannabutter if you are working with CBD oil rather than cannabutter. Place the bowl over a pot of water that is simmering on the stove, and while the water is heating up, sauté the butter while stirring it periodically. Keep stirring the mixture and keep heating it until it is completely smooth and very hot to the touch.
Take the bowl from the burner, and let the mixture cool down to a temperature where it is just warm. You shouldn't be concerned if it has a bit of a grainy texture since it will become smooth after you add it to the mixture for the brownies.
Step 3: Mix the batter
If you are going to be using CBD oil, add the required amount of drops to the melted butter and mix everything together well after each addition. After adding each individual egg and the vanilla extract, be sure to give the mixture a thorough stir after each addition. In the last step, the flour is incorporated into the batter, and then it is beaten rapidly for forty strokes, until the mixture becomes smooth and shiny. Combine with the nuts (if using).
Step 4: Bake
After you have transferred the batter to the baking pan that has been prepared, level down the top so that it creates a uniform layer. Bake for 25 to 30 minutes, or until a toothpick inserted in the middle comes out with a few crumbs of batter clinging to it. Check for the following visual cues to determine whether or not the brownies are done: the middle should be firm and should not move when the pan is shaken; the top should show some evidence of breaking; the pan should be removed from the oven.
Wait until the brownies have totally cooled before removing them from the baking pan.
Step 5: Cut the brownies
When the brownies have finished cooling fully, remove them from the pan by pulling up on the paper on two opposite edges of the pan. After placing the brownies in the freezer for thirty minutes, until they have reached the desired consistency, place them on a big plate or baking sheet.
Cut the brownies into 36 bite-sized pieces using a knife that is nice and sharp.
How to Store CBD Brownies
Wrap each individual brownie with a piece of waxed paper or aluminum foil, and then store them in an airtight container or a plastic bag that can be sealed.
Cannabinoids, such as those found in CBD brownies, are at their most stable when kept in a dark and cold environment. The brownies may be kept fresh in the refrigerator for up to two weeks. If you want to keep the brownies for a longer period of time, you may freeze them for up to six months.
How Long Do CBD Brownies Last?
CBD brownies may be stored for up to two weeks in the refrigerator and up to six months in the freezer without losing their flavor or texture.
Can You Add Mix-Ins to CBD Brownies?
CBD brownies will taste delicious with whatever extras you want to make, just like traditional brownies. If you want to give your CBD brownies a little more flare, try topping them with chopped nuts, nut butter, fruit or jam, caramel, butterscotch, cut-up cookies, pretzels, or chocolate chips. If you want to make a luxurious treat out of them, you shouldn't be scared to top them with fudge or peanut butter icing either.
Cannabutter versus CBD Oil in CBD Brownies
In general, oil produces fudgy brownies, while butter produces cakey brownies. Because we utilize cannabutter, which can be produced with either butter or coconut oil for dairy-free brownies, either method works for our CBD brownie recipe. Cannabutter is less expensive than store-bought CBD oil and may be kept in the freezer until ready to use.
If you don't want to learn how to manufacture cannabutter, you can substitute your preferred CBD oil. Simply combine the oil and vanilla essence in the recipe. Because this recipe yields 36 bite-size brownies, use the proper amount of drops to get the specified dose.