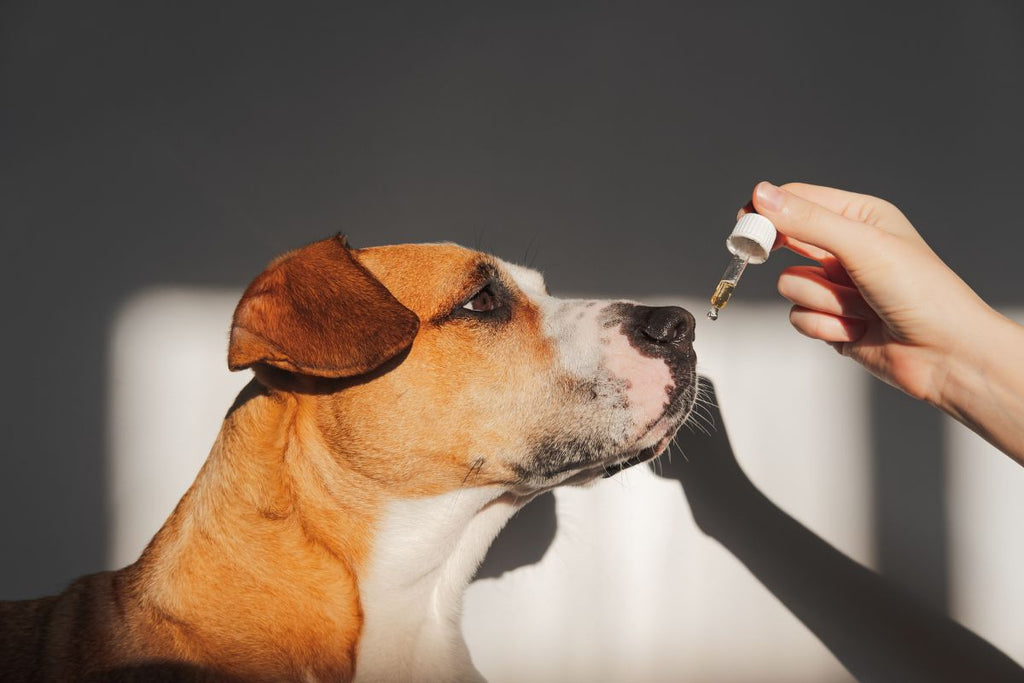 Cannabidiol (CBD) products are becoming more popular for both people and dogs. With the increased usage of CBD, pet owners and veterinarians alike are questioning whether it may be an alternate choice for a variety of pet health concerns. Early research seems encouraging, but if you want to try CBD products for your pet, you should consult with a veterinarian who is experienced with them.
We'll talk about current CBD studies, if it's safe to use in dogs, and whether it's the appropriate decision for your furry buddy.
What is CBD?
The active components in marijuana include delta-9-tetrahydrocannabinol (THC) and cannabidiol (CBD). 
THC is the chemical that causes individuals to become "high" when they smoke marijuana. 

CBD, on the other hand, does not produce a "high," and research suggests it may have a number of health advantages.
While acquiring CBD products varies by state, many individuals in the United States may readily get these things both in shops and online.
However, the FDA has not yet established if CBD is safe to use as a food ingredient, nutritional supplement, or therapy in dogs. Although there is one FDA-licensed human drug that contains CBD, no animal products have been authorized.
What kind of research has been done on the effects of CBD in pets?
Unfortunately, there isn't a lot of study on the use of CBD in dogs. Currently, recommendations are based on the professional experiences of veterinarians or on extremely tiny research.
As the interest in and usage of CBD in dogs grows, so will the quantity and size of these studies, giving veterinarians and pet owners with greater direction on how to effectively utilize these products.
Is CBD safe for pets?
It's crucial to note that no prescription or over-the-counter CBD products have been authorized by the FDA for use in animals. This implies that items on the market may not have been examined for safety or efficacy prior to sale. Furthermore, some firms may market unfounded medical claims about their goods that have not been vetted or authorized.
There are also issues about the quality of CBD products. For example, the product may contain less CBD than stated on the label, or it may include impurities such as THC or pesticides. So, if you decide to try CBD for your pet, you may need to conduct some further research to learn precisely how the product you're considering is created.
If you have any queries, visit the brand's website or contact the firm and get their Certificate of Analysis (COA). This open document confirms that the components listed on the label are present in the product. If the firm cannot give you the most recent COA, it is not a smart idea to acquire a product from them.
What are the risks of treating my pet with CBD?
CBD's negative effects in animals are extremely comparable to those experienced by people. Changes in appetite, tiredness, and diarrhea are the most prevalent symptoms. The larger the CBD dosage you give your pet, the more probable they may have negative effects.
In most situations, treating these responses is unnecessary since they are often moderate or improve with time. If these adverse effects do not improve or worsen, you should call your pet's veterinarian and keep a careful check on them to ensure they do not harm themselves.
Can CBD cause my pet to get high?
As previously stated, CBD does not provide a "high" or euphoric experience. Some owners, however, claim that when their dogs consume CBD, they get agitated. If your pet seems to be "high" after taking their medication, there is a reason for this.
Before buying any CBD product, thoroughly read the label to learn more about its ingredients. If a product is labeled "full spectrum," it implies it contains up to 0.3 percent THC, which is the legal maximum under the Agriculture Improvement Act of 2018. This apparently little quantity may be enough to produce this negative effect in your pet, particularly if they are hypersensitive to it.
What forms of CBD are available for pets?
If your doctor suggests CBD for your pet, a variety of CBD pet products are available, including oils, treats, topical solutions (lotions, gels, creams), and more. It is often administered orally or sublingually. When initially starting to provide CBD to your pet, bottled oils with droppers may be better since it is simpler to gradually increase the dosage rather than being confined to a predetermined quantity in a pill, capsule, or treat.
Are human CBD products safe for pets, or do I need CBD products specifically intended for pets?
CBD is included in goods intended for people as well as ones intended for dogs. So, although human CBD may be safe to administer to your pet, you should follow any instructions from your veterinarian. If the product is not manufactured expressly for dogs, it is critical to read the label to double-check for potentially hazardous substances such as chocolate, essential oils, and artificial sweeteners.
Pet-specific oral CBD products are often flavored with your furry buddy in mind, such as chicken and fish chews, in addition to being free of these potentially dangerous substances. Be advised that some CBD products have a grassy flavor that may make giving it to your pet more challenging. If your dog or cat doesn't like the product you've selected, try hiding it in a tablespoon of peanut butter or your pet's favorite treat.
CBD for Dogs
There is currently no scientific research on how CBD affects dogs. What scientists do know is that cannabinoids interact with endocannabinoid receptors in the central and peripheral nerve systems, which assist maintain bodily equilibrium and keep it healthy.
What Dog Health Issues Can CBD Oil Help With?
While there is no solid scientific proof that CBD may be used to treat dogs, there is anecdotal evidence from dog owners that it can relieve pain, particularly neuropathic pain, as well as aid control seizures.
CBD is also utilized for its anti-inflammatory characteristics, cardiac advantages, anti-nausea effects, hunger stimulation, anti-anxiety impact, and possibly anti-cancer benefits, according to Dr. Klein, but there is no convincing proof of this application.
The AKC Canine Health Foundation (CHF) is funding a research at Colorado State University's College of Veterinary Medicine and Biomedical Sciences to look into the usage of CBD in dogs that are resistant to therapy. The CHF expects that this will be the first research to collect scientific evidence on the use of CBD in dogs suffering from this illness.
CBD's Potential Side Effects in Dogs
While there is no scientific research on CBD's adverse effects in dogs, there are probable side effects based on how CBD affects people. Make sure you are using the correct dose to avoid any unwanted negative effects.
Dry mouth: CBD has been proven in studies to reduce saliva production. This might appear as increased thirst in dogs.
Blood pressure reduction: High doses of CBD have been linked to a transient decline in blood pressure. Even if the dip is minor, it may cause a transient sense of dizziness.
Drowsiness: CBD has been used to relieve anxiety in dog owners. CBD's soothing impact might produce moderate sleepiness, particularly at larger dosages.
What CBD dosage should be used for pets?
Since there are no FDA-approved animal products and few safety and effectiveness trials, further study is required to identify dosages. If your vet prescribes CBD, follow their dose advice since it varies by use.
One research examined CBD oil's effectiveness in treating osteoarthritis in dogs. 
2 milligrams per kilogram of body weight twice a day alleviated pain without adverse effects.
Blood tests indicate liver damage. This is why your vet must check your pet properly.
As with people, start your pet on a low dosage and gradually increase it.
Start with 1/4 or 1/2 the indicated dosage to evaluate how your pet responds to CBD. If your pet's symptoms don't improve, your doctor may prescribe another dosage in 30 to 60 minutes.
We don't know the safest CBD dosage for animals since there isn't much study. Discuss safe doses with a vet who has expertise using CBD to treat pets.
We recommend Aesy Botanic's tinctures, they are made with broad-spectrum CBD and organic MCT oil to help improve absorption and bioavailability. We love how the people at Aesy Botanics made sure that your pet gets the best and purest CBD with the best possible effect. Their tinctures are:
100 % THC free
USA grown
Certified Hemp
Vegan
Gluten-free
non-GMO
Lab-tested
Organic ingredients
Cruelty-free