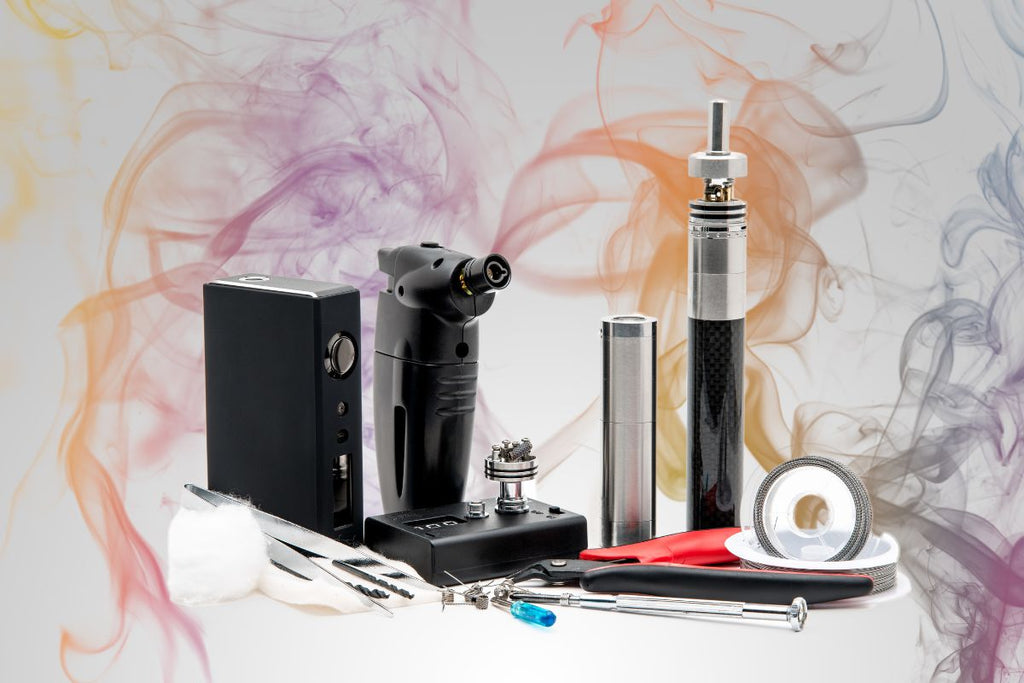 Since the introduction of the first contemporary e-cigarette in 2003, vaporizers have grown at an astonishing pace.
It might be difficult to know where to begin with all of the various kinds of vape equipment and e-liquid tastes available. It's especially important if you're just getting started with e-cigarettes.
This guide will help you get one step closer to choosing the right vape.
Let's familiarize ourselves with the vaping jargon first since it might be complicated.
WHAT DO I NEED TO KNOW ABOUT VAPES?
Before we begin, it's important to understand that a vaping device is composed of three primary parts:
Battery - serves as a source of energy to power the atomizer. 

Atomizer - is a part of the device that heats and turns the e-liquid vapor. 

E-liquid
This is a standard feature of all vaping devices, regardless of how sophisticated they may be.
WHAT ARE THE DIFFERENT TYPES OF VAPES OUT THERE?
There are a lot of gadgets out there to choose from, so let's get started.
It's possible to categorize e-cigarettes into four groups:
Cig-A-Likes (First Generation)

Vape Pens (Second Generation)

Mods (Third Generation) 

Pod Mods
Each vaping device offers distinct features due to technological improvements. Generation numbering was born.
New cellphones have third-generation functionality. Don't misread. You don't need the newest, best equipment. What works for you matters. Even old devices have new features. Remember this while buying!
WHAT IS A VAPE MOD?
Vape mods are known for their power and customization. Vapers transform flashlights into vaporizers, thus the word "mod." Clouds, please! Vapers added flashlights to their vaporizers.
Vape enthusiasts used to try to improve their devices and see how far they could go. Despite danger and explosions, they nevertheless received plump plumy clouds.
Today's vape stores have no dodgy mods. Since these mods are so popular and easily accessible, there are many appealing designs that generate enormous clouds of vapor.
The sub-ohm coil boosted power. A less resistant coil allows more energy to flow through, hence a larger battery isn't needed. A sub-ohm coil's reduced resistance allows for quicker electrical flow. Increased coil current produces bigger clouds and more nicotine. Unless you vape 0mg.
Wattage and manufacturer recommendations influence coil resistance. To pick the right resistance, you must understand Ohm's law and the meter.
WHAT ARE THE DIFFERENT TYPES OF VAPE MOD?
Vape mods are separated into two categories:
Regulated

Unregulated
Regulated modifications have a circuit board inside. With a circuit board, a safety feature, as well as many adjustable features, such as variable voltage, wattage, and temperature control, may be included. There is no need to worry about any of this, my friends. Let's take a look at what all of this implies for you in the paragraphs that follow!
Safety Features (Battery Protection Circuit):
Short circuit protection - prevents your device from firing when there is a short circuit. It exists to prevent any damage to your battery.
Overcharge / Discharge protection - prevents your device from firing when the battery is overcharged and when the device is overused.
Thermal Protection - prevents the device from hitting when the battery overheats
Min/Max Resistance Protection - device will not fire using improper coil resistance
Personalization Features (Circuit board):
Fixed Voltage - a set voltage output in a vaping device which makes for a consistent vaping experience. Even if your battery is low, it will still use the same amount of volts for a consistent vape.
Variable Voltage/Wattage - the ability to increase or decrease voltage/wattage to maximize or minimize power flowing through your atomizer and the power output of your device. Allows you to play with the flavor intensity, cloud production, and throat hit to find your sweet spot.
Temperature Control (TC) - You can set up a temperature you would like to vape at, and the device automatically adjusts the power output to avoid dry hits and to preserve coil life. TC can only be used with certain types of coil materials (nickel, titanium, stainless steel).
Let's take a look at the two types of controlled modifications that are available:
Tube Mods
To put it another way, tube mods are basically vape pens with sub-ohm tanks added. A less powerful clearomizer tank was used in the early days of vape pens, which appeared in the mid-2000s. When it comes to getting started vaping, tube mods have taken over as the new go-to gadget since they have the most up-to-date vaping technology. The vast majority of vape pens on the market today are tube mods with just one button to activate the device. We'll go into more depth about this in the section about vape pens!
Box Mods
Box mods are the most powerful vaporizer mods. Massive clouds from box-shaped vaporizers have captured your sight. Box mods provide higher battery power and advanced features that let you customize your vaping experience.
Common box changes:
Sub-ohm

Chargers

Temperature/Voltage Variable (some have this feature)

LED screen displays battery life, ohmmeter, puff counter, voltage/wattage, and temperature.

Atomizer airflow adjustment
Unregulated mods don't have built-in functionality. This means there's no electrical circuitry to prevent device malfunctions. Battery, atomizer, and case alone. No protections exist, endangering users. Vapers who understand Ohm's law and electrical systems should use these gadgets.
Unregulated devices aren't for beginners.
Mechanical mods are battery-powered devices housed in aluminum tubes or wooden boxes. Vapers that construct their own atomizers use mechanical mods.
Vapers have greater control over their experience by creating their own coils. Rebuildable Drip Atomizers drip e-liquid into custom-built coils (RDA). Rebuildable Tank Atomizers (RTA) are popular among vapers since they're both a tank and a vaporizer.
Vape tricksters and cloud chasers design mech mods to generate huge clouds.
Let's compare several box adjustments.
ARE VAPE BOX MODS A GOOD CHOICE FOR YOU?
While the complex features of box mods may make them seem like high-tech gadgets, they're really rather simple to use, requiring no more than three buttons to be pressed.
For those who like messing around with gadgets and experimenting with various settings, box modifications are ideal. Due to the high learning curve, vape box mods are not suggested for smokers who are just starting out in the world of e-cigarettes.
Pros:
High performance when it comes to flavor intensity and cloud production 

Ability to personalize vaping experience with different settings to find your sweet spot

Longer battery life

More options to use different kinds of coils

Option to choose a Mouth to lung (MTL) or Direct to Lung (DTL) hit
Cons:
Need to buy separate batteries

It takes longer to charge batteries

Not the ideal device for beginners since it can take some time to learn the device
WHAT IS A VAPE PEN?
A vaporizer pen is cylindrical and comes in numerous colors and shapes. Vape pens are larger to enhance battery life and cloud creation (cig-a-likes). Vape pens were distinctive in the mid-2000s due to their large batteries, microprocessors, and separate atomizers (clearomizer).
Today's vape pens include cutting-edge features owing to industry developments. Vape pens are popular in the cannabis industry because they can vape flowers, concentrates, and oils.
Recent media emphasis has focused on vaporizers and electronic cigarettes' fire and explosion risks. Vape pens are a great alternative for vapers, but only if they're well-maintained and from a trustworthy source.
Let's examine how vape pens function now.
ANATOMY OF A VAPE PEN
Features of today's vape pens:
Firing Button

Battery

Safety feature (microchip) - 10-second auto-shutoff

Tank

Coil (Sub-ohm or not)

Battery indicator

Airflow control on some

USB Port for charging
The atomizer consists of several parts:
Drip tip or mouthpiece

Tank (you can see the level of e-liquid in your tank)

Chimney

Coil (either sub-ohm coils or coils with higher resistance)

Airflow control

Threading to connect to the battery
Sub-ohm vaporizers aren't available on every vape pen presently on the market. Sub-ohm coils were not commercially available when the first vape pens were manufactured, hence they weren't used.
WHAT ARE THE DIFFERENT TYPES OF VAPE PENS?
Current vapor pens are very different from those of the mid-2000s. Today's vape pens contain third-generation mod-like capability, enabling them to work with older devices.
Let's look at the different e-cigarettes available today:
Modern vape pens have these features:
Voltage constant

Voltage-adjustable sub-ohm tanks

Variable temperatures
First-generation e-cigarettes were "fixed voltage" devices. Fixed-voltage gadgets emit a constant voltage. This removes the need to adjust settings, as there's only one option: hitting the button.
Vape Carts

with variable voltage and temperature vs. those without. Because it simply has one button and uses sub-ohm tanks, it's easy to operate and may satisfy nicotine cravings. More in later mods.
Variable voltage enables users to tailor their vaporizing experience. Older vape pens feature variable voltage, but with lesser batteries. Changing the voltage may affect flavor, cloud formation, and throat impact.
Third-generation vape pens with Variable Temperature. This feature avoids dry impacts by automatically adjusting the power output to the user-set temperature.
WHAT ARE THE COMMON CHARACTERISTICS OF A VAPE PEN?
Due to the flexibility to alter the airflow intake, vape pens may be used as an MTL or Direct to Lung hit device. In sub-ohm and mod devices, a direct-to-lung (DTL) hit is a typical feature.
Large amounts of vapor may be produced with DTL devices since the vapor is sent directly to the lungs via the mouthpiece. The more free the airflow, the more direct an impact to the lungs will be. Vape pens on the market today use a mix of second and third generation technology.
Among the many vaping devices available, there are a few characteristics that are universal.
Perfect Beginner's device - often recommended by vapers as a great starter kit due to strong performance and simple to use features
Tank Capacity: 1.8 ml ~ 5 ml 
Coils: resistance ranges anywhere from 0.15 ohm to 2.5 ohm depending on the device 
Nicotine Strength: 0 mg, 3 mg, 6 mg, and 12 mg
Safety Feature - a microchip inside the device will prevent you from taking a hit longer than 10 seconds. This is a safety feature that will prevent you from overheating your battery
Battery Power: anywhere from 650 mAh to 3000 mAh
Wattage Output: less than 80 W
ARE VAPE PENS A GOOD FIT FOR YOU?
Pros:
User-friendly

Portable but not as portable as cig-a-likes

Variety of sizes and colors to choose from

Excellent cloud production

Flavor is more pronounced compared to cig-a-likes

Option to select a MTL or DTL hit by adjusting airflow intake
Cons:
Short battery life compared to box mods but longer than cig-a-likes

More e-juice consumption = refill more often

Device issues can be present such as minor leaking or battery issues
Compared to cig-a-likes, vape pens are less expensive and provide a superior vaping experience. When it comes to flavor intensity, cloud generation, and nicotine delivery efficiency, vape pens are a great place to start if this is your first time vaping.