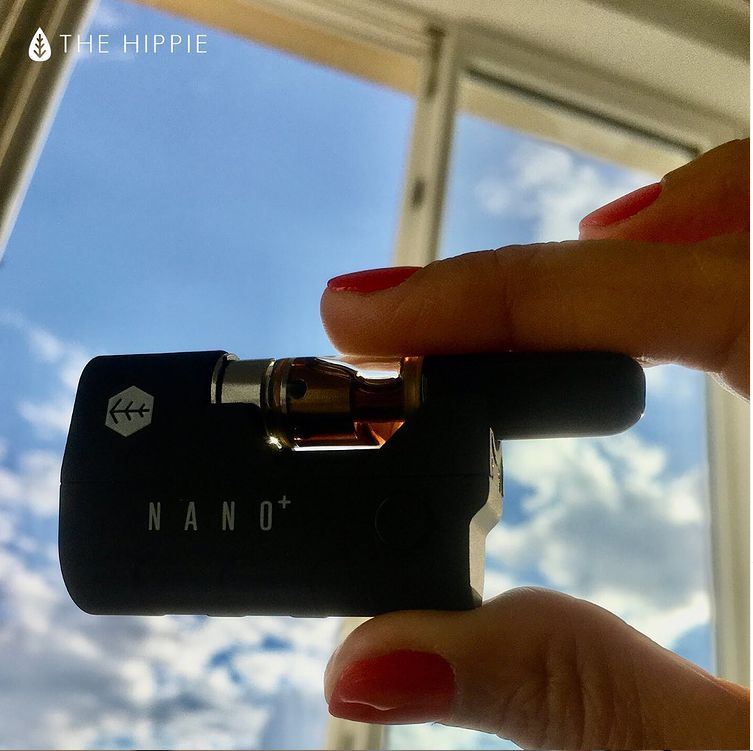 Many of us love smoking a cigarette in the car, but the risk of fire may be too much for some people. This is where a vaporizer comes in. Basically, they use higher temperatures than traditional contraptions to release heat-sensitive substances into the air (mainly nicotine and water).
They are the perfect way to quit smoking without any hassle.
You can vaporize early and quickly so you will no longer smell like a cigarette after you're done or generate more clouds with bigger hits. 
Hippie Nano Plus is the best smallest vaporizer
Some of the most famous vaporizers that are on the market are the Volcano, or even more expensive vaporizers. But Hippie Nano+ is a great alternative and at a bargain price! 
At the price of $19.99 in the US, it is one of the most affordable vaporizers currently available. The kit includes everything you need to start vaporizing the minute it arrives. 
This is one of the most popular vaporizers in the market.
It has a magnetic connection instead of your typical screw-in interface. You inhale from the mouthpiece and enjoy its delicious flavor.
The Hippie Nano Plus is the world's smallest vaporizer for liquid.
A true tiny vape that packs a changeable voltage control and even has a pre-heating function. It is a great choice to be used with any disposable cartridge with 510 thread, just fill the leak-proof tank, which is included, with your favorite liquid. This vape is the most portable convenient on-the-go vaporizer. 
It is small, portable and discreetly designed, making it perfect for on-the-go vaping. It is easy to use - to preheat the Nano+, just press the power button two times.
The light of the LED power button will then change color from blue, green, yellow to red.
To change the temperature, just press the power button three times:
Green indicates low power (2.8V)
Blue indicates moderate (3.2V)
Yellow indicates high (3.8V)
Red indicates very high (4.2V)
The solid construction means it will last for many years of use, as long as you do not abuse it by overloading or dropping it. It is also very easy to clean.
This super-mini vaporizer is designed for discretion, that easily fits in your pocket or purse, invisible in your palm and travels well, thanks to its compact size.
The price for this vaporizer is $19.99, which makes it one of the most affordable vaporizers in the market currently. This is a personal vaporizer that has been highly rated by many individuals who have used it before. The device is very easy to use and is also very efficient.
Why use a small vaporizer?
There are a few reasons why people might prefer using small vaporizers. It is because they are easy to use, discreet and have many benefits. The main reason is that the devices are small and can be used anywhere.
Many people like to be discreet when they are using a vaporizer because it is easy to pack it in your pocket or bag and sneak away to enjoy a session. However, the downside of using a small vaporizer is that it cannot be used for high-quality vape sessions.
There are many advantages to using a small vaporizer because it takes very little time to heat up so you can inhale it as soon as possible and take huge hits without getting too much smoke in your lungs. This creates better tasting, richer and smoother hits without any harshness or nasty after taste.
Another great advantage of using a small vaporizer is that it is less messy than larger devices. If you are a first timer, you may want to use the device for only 1 or 2 sessions until you get used to it. You can then increase your sessions and use it as often as you wish.
Using a small vaporizer will make smoking much more enjoyable and convenient than smoking a joint or rolling papers because there is no need to add any helper substances, which can be very harmful. 
There are many different types of vaporizers that can be found in the market today, and most of them have something unique about them. That is why it is important to read up on all the features they have in order to find the most suitable one for your needs.
Where to get a small vaporizer?
When choosing the best small vaporizer, it is important to find one that meets all your requirements and fulfills all your vaping needs. If you are looking for a top-notch device, then you can choose from a variety of vaporizers such as the Hippie Nano Plus.
This vaporizer is made up of high-quality materials and it delivers exceptional performance every time. Not only that, but it also has an excellent battery life that will last through several vaping sessions without having to recharge it fully before each use. 
The best thing about these small vaporizers is that they are discreet, small and can be used anywhere.