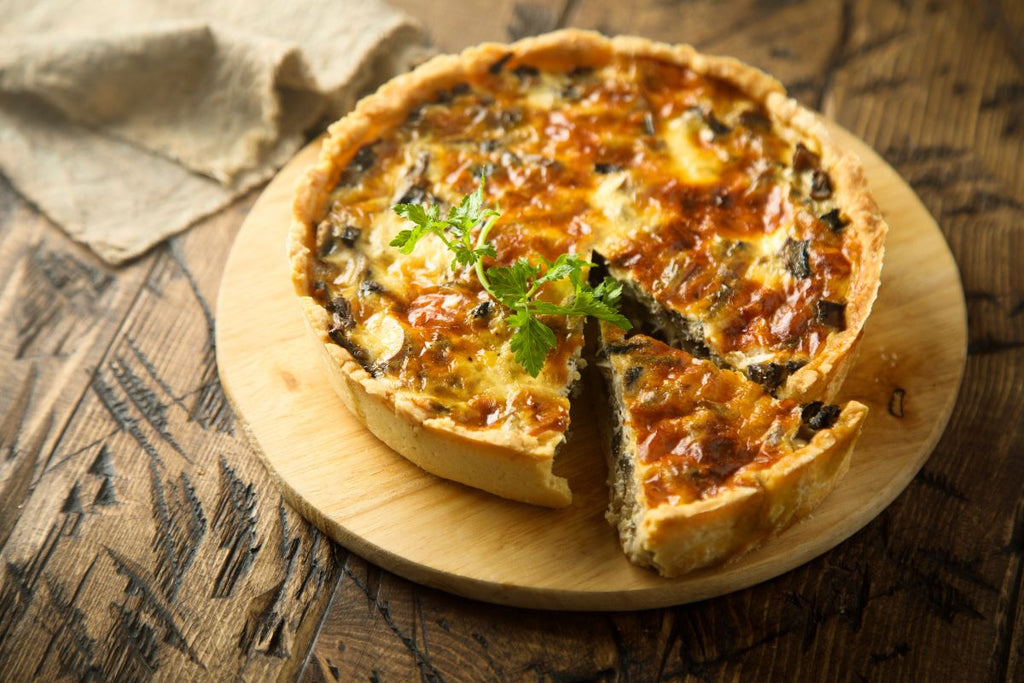 Don't get intimidated by the French (or at least we believe - some say it is actually from Germany) dish, that sounds fancy and… well, it is! However, Quiche requires some preparation, once all the ingredients are in the bowl, you just toss it in the oven and chill and wait until it is ready.
You can serve it hot or cold, it freezes well, and of course, it is a great way to get your daily dose of AVB.
Quiche can be made in many ways, if you know your way around the kitchen you can try different ingredients, but if you just want to keep it simple that works as well. We are going to give a simple recipe, that later on you can expand and add anything else you want.
Here's the recipe: (
6 servings)
Ingredients:
pre-made pie crust (you can buy it in any grocery store)

6 large eggs

1 bunch of spring onions

1 cup cold cuts (choice of your favorite deli ham)

5 cups shredded cheese of your choice 

75 cup milk or heavy cream (fatty cream works great with AVB)

4-6 g of water cured AVB (depending on your tolerance) 

salt and pepper 
Instructions
Preheat oven to 375 °F 

Remove any plastic wrapping from the pie plate. 

Take a big bowl and put the eggs, cream, AVB, salt, and pepper in it and whisk it. 

Chop the ham and the onion and put in the mixture, stir it well. Add 0.5 cup of shredded cheese too.

Pour the mixture into the crust and sprinkle the leftover cheese on the top. 

Bake for 35-40 minutes until the mixture is completely baked. You can test it with a fork. Stick it in the middle of the quiche and if there are no egg pieces on it, the quiche is ready. 

Let it cool for 10 minutes. 

Slice and enjoy!

 
Tips: 
You can mix it up with extra veggies, like spinach, mushrooms, or bell pepper. Just make sure you sauté them and cook away all the excess water before mixing it with the eggs. These veggies tend to water down your quiche if you don't pre-cook them. 

Cutting calories:

You can leave the crust out. Make sure you grease the pie plate with butter or oil so the quiche comes out easily once it is baked.  
Just collecting these few ingredients and following the steps above you can create a delicious and healthy full meal infused with AVB. 
Always watch out for dosage, if you are not sure, add less AVB at the beginning and increase the amount later on. 
Bon appetit!