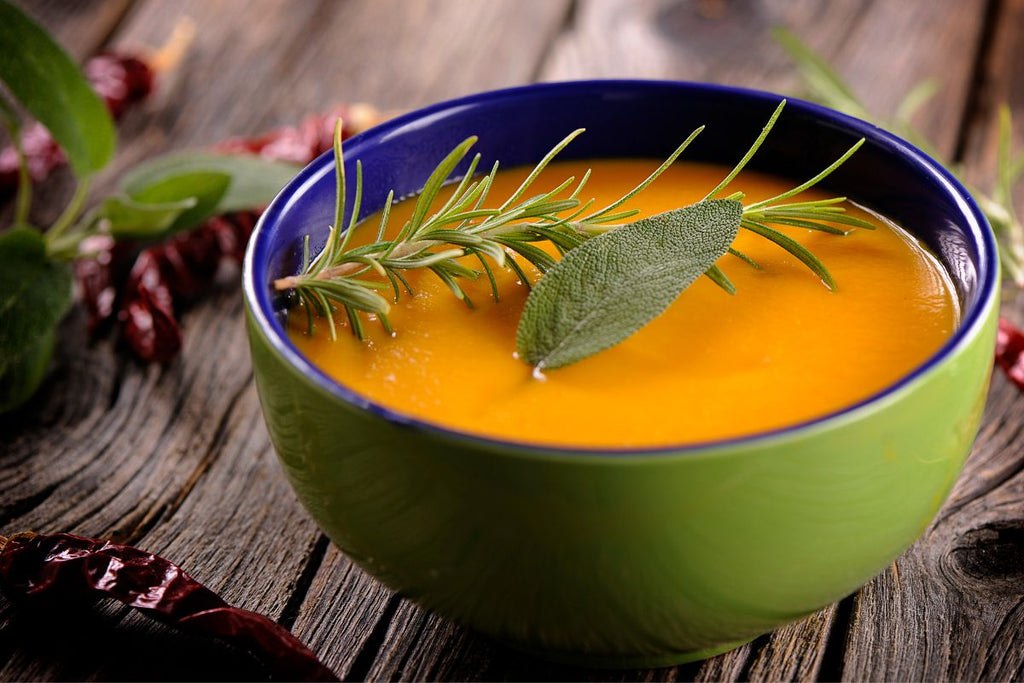 We just can not hide our excitement about this soup. It is perfect for chilly weather, it's warm, sweet, and savory at the same time. 
You will need any kind of blender (blender, food processor, or stick blender) to create this dish easily. 
Creamy Pumpkin Soup - with a touch of AVB
Ingredients: ( 6 servings) 
blender, food processor, or stick blender

4 cups of pumpkin (or butternut squash) - peeled and chopped into chunks (cubes) 

3 cups of vegetable stock

2 finely chopped onions

2/3 cups of heavy whipping cream

4-6 g of water cured AVB (depending on your tolerance)

Salt, pepper, nutmeg 

 
Toppings (optional)
roasted pumpkin seed c

croutons

balsamic glaze 

crushed, roasted almonds

bacon
Note: Before you start - You can go about this in 2 different ways. You can roast the pumpkin chunks in the oven, to have a more flavourful result.  
If you do so: Lay a baking sheet in a pan and grease it a little bit. Spread the chunks evenly on the sheet. Preheat the oven to 400°F and roast the pumpkin until it is soft. 
If you don't have too much time you can skip step zero. 
Sauté the onion on 2 Tbsp olive oil or butter in a pot until they are soft but not colored. 

Add the pumpkin chunks and sauté it until it starts to get soft and turn golden. (You can just roast the onion and the pumpkin together for 5 minutes with the pumpkin that was already baked.

Add the veggie stock to the pot and season it with salt, pepper, and nutmeg. Add your AVB as well and let it cook.

Bring it to boil and simmer it on low heat until the pumpkin is soft completely (again you can just bring it to boil with the baked pumpkin)

Add the heavy cream and simmer it for 5 more minutes.

Taste it and see if it needs more seasoning. (Creamy tends to tone down the flavor)

Use a hand mixer or run everything through a blender until you have a creamy smooth mixture. 

Serve it hot with desired toppings.

 
We hope that you will really enjoy this delicious, warm, creamy soup.
Remember, feel free to experiment with the amount of AVB, just always start low and slowly increase the amount.
If you feel like the soup doesn't deliver the desired hit, you can always add water-cured AVB with the toppings!