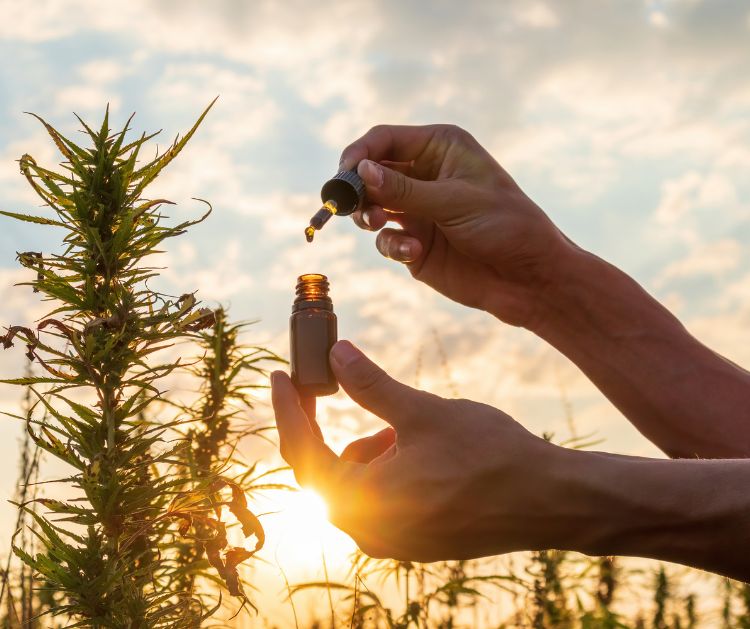 Cannabidiol is a widely used natural medicine. It is one of over 100 cannabinoids contained in the cannabis plant, Cannabis sativa. THC is the major psychoactive cannabinoid in cannabis, causing the feeling of being high. To be clear, CBD is not psychoactive. 
This property makes CBD a tempting choice for people seeking pain and symptom treatment without the psychoactive effects of cannabis or other adverse effects of certain prescription medicines.
Hemp or coconut oil is used to dilute CBD extracted from the cannabis plant. CBD is available as nutritional supplements, bath soaks, beverages, and culinary items. A growing body of research shows that it may help treat diseases including chronic pain and anxiety. But is it right for you?
This page discusses the health advantages of CBD, as well as possible negative effects and safety issues.
Is CBD legal?
Federally lawful CBD products (less than 0.3 percent THC) are nevertheless banned in several states. CBD products produced from cannabis are prohibited federally but lawful in several states.
Check local and state laws before traveling. Also, nonprescription CBD products are not FDA-approved and may be mislabeled.
1. Can help pain
Pain relief with cannabis dates back to 2900 B.C. Scientists have found that CBD, among other components of cannabis, has pain-relieving properties.
The endocannabinoid system regulates sleep, hunger, pain perception, and immune system response. It is made up of endocannabinoids, which are neurotransmitters that attach to cannabinoid receptors. Endocannabinoid receptor activation, inflammation, and neurotransmitter interactions have all been linked to CBD. 
When taken alone, CBD may be useful for some forms of pain, such as nerve and back pain. But it appears to work best with THC. Several human studies have demonstrated that combining CBD and THC relieves pain from MS and arthritis.
Several nations have licensed Sativex (nabiximols), an oral spray containing equal parts THC and CBD, to treat MS-related pain. A month's worth of Sativex was tested on 47 MS patients. The participants' discomfort, walking abilities, and muscular spasms improved. The research lacked a control group, thus placebo effects are possible. 
In one study, Sativex helped those with MS-related neuropathic pain and persistent severe neuropathic pain. Stress and worry are important causes of chronic pain, according to the analysis. Also, some evidence shows CBD may help rheumatic disorders like fibromyalgia.
A survey of 2,701 fibromyalgia patients indicated that those who took CBD for pain management reported mild to major improvement in symptoms. Preclinical data from rat research suggests CBD may help reduce arthritis pain and inflammation, but human trials are limited.
Researchers are cautiously hopeful that CBD may help treat certain forms of pain, particularly when paired with THC, but additional high-quality trials are required to confirm this.
Summary: CBD, particularly in conjunction with THC, may help relieve discomfort associated with MS and fibromyalgia. Still, further study is required to assess its pain-relieving potential.
2. May lessen symptoms of various mental diseases
Anxiety disorders and other mental health issues may negatively effect general health.
Psychological illnesses are often treated with pharmacological medicines, which may produce sleepiness, agitation, sleeplessness, sexual dysfunction, and headaches (11Trusted Source).
Benzodiazepines, for example, may cause dependency and lead to drug use disorder.
Many individuals interested in this natural method since CBD oil has shown potential as a therapy for several mental health illnesses, such as anxiety disorders.
In one research, 57 males were given oral CBD or a placebo 90 minutes before a simulated public speaking exam. The researchers discovered that 300 mg of CBD considerably reduced anxiety throughout the test.
A placebo, 150 mg CBD, or 600 mg CBD had little to no impact on individuals who took them.
Children with PTSD, a kind of anxiety illness, have been treated with CBD oil for sleeplessness and anxiety.
Adults with PTSD, including nightmares, found CBD beneficial in a small 2019 research.
Other research suggests CBD may help those with social anxiety and other anxiety disorders.
While CBD seems to help some persons with depression, human proof of its antidepressant properties is still limited. However, multiple studies show that it may help alleviate depressed symptoms among cannabis users.
The benefits of CBD on anxiety and depression are still being studied. In fact, a 12-week research assessing the effects of 150–300 mg of CBD on bipolar illness symptoms is planned to be finished in April 2022.
Summary: CBD has been demonstrated to help with symptoms of anxiety disorders. Researchers are now testing CBD's efficacy in treating different mental illnesses.
3. Can help with certain cancer symptoms
Nausea, vomiting, and discomfort are among adverse effects of cancer therapy that CBD may help alleviate. An prior research looked at the effects of CBD and THC on 177 cancer patients who were not helped by pain medications.
Compared to simply THC extract, individuals given with an extract combining both components had much less discomfort. An analysis of five research indicated that Sativex may help certain cancer patients relieve discomfort.
Studies on the effects of cannabis and cannabinoids like CBD on cancer-related nausea, pain, and appetite loss have shown inconsistent results. While CBD may assist certain cancer patients, additional study is required to establish if CBD should be taken more often to control cancer symptoms.
If you have cancer and want to use CBD or other cannabis-derived products, talk to your doctor first. These products may not be suitable or effective for all cancer patients.
Summary: While CBD may help some patients with cancer-related symptoms, additional study is required to examine its efficacy and safety.
4. May be neuroprotective
Activating the endocannabinoid system and other brain-signaling systems may help patients with neurological illnesses, say researchers. 
In fact, CBD has been researched for treating neurological illnesses including epilepsy and MS. Though the field is young, numerous studies have showed promising outcomes.
Sativex has been found to safely relieve muscular stiffness in MS patients. It decreased spasms in 75% of 276 MS patients who had resistant muscular stiffness to medicines.
In another trial, 214 patients with severe epilepsy received 0.9–2.3 grams of CBD oil per pound (2–5 grams per kg). Their seizures decreased by 36.5 percent.
Another research indicated that CBD oil decreased seizures in children with Dravet syndrome, a complicated pediatric epilepsy illness. However, some participants in both trials suffered CBD-related side effects such seizures, fever, and exhaustion.
CBD has also being studied for its ability to treat various neurological illnesses.
For example, CBD medication may enhance quality of life and sleep in persons with Parkinson's disease. However, experts say there is a dearth of high-quality data. That implies there isn't enough data to support CBD's usage in Parkinson's disease therapy.
However, the FDA has authorized one CBD medication for the treatment of various epileptic disorders. The FDA authorized Epidiolex in 2018 for the treatment of seizures associated with two severe types of epilepsy, Lennox-Gastaut and Dravet syndromes.
Tuberous sclerosis complex, a rare genetic disorder that causes benign tumors to form in the brain and other regions of the body, caused seizures in 2020.
Summary: CBD may help treat seizures caused by several illnesses. The FDA has approved Epidiolex, a prescription CBD medication, to treat seizures caused by uncommon disorders including Dravet syndrome.
Benefits for the heart
CBD has been associated to various cardiac and circulation benefits, including lowering high blood pressure. High blood pressure raises the risk of stroke, heart attack, and metabolic syndrome (24Trusted Source).
CBD may help persons with high blood pressure, according to research.
9 healthy guys were given 600 mg CBD oil in a short research. Compared to a placebo, CBD lowered resting blood pressure.

The guys also underwent stress tests, which raise blood pressure. Interestingly, the men's blood pressure increased less than usual after taking a single dosage of CBD.
Another research with 26 healthy males revealed that taking 600 mg of CBD for 7 days reduced blood pressure significantly compared to a placebo group. But after 7 days, the impact faded.
After repeated dosages, the CBD group had lower blood pressure than the placebo group.
Compared to the placebo group, the CBD group showed less arterial stiffness and better blood flow.
We need additional research on the potential advantages of CBD therapy on heart health.
Summary: While further human research are required, CBD may help improve heart health by lowering blood pressure and increasing arterial function.
6. Other potential benefits
Other than the conditions listed above, CBD has been explored for its function in treating.
More research is required, however CBD may have the following health benefits:
Psychiatric effects CBD may benefit persons with schizophrenia and other mental illnesses by lowering psychotic symptoms.

Addiction therapy. CBD may assist those addicted to narcotics like heroin overcome their anxiety and sadness.

Glioblastoma patients may live longer. Recent study suggests that combining CBD and THC may help some patients with glioblastoma live longer, although data is limited.

Possible sleep improvement Some studies show CBD may benefit persons with sleep difficulties, but more study is required.
Summary: Some research suggests CBD may assist with addiction, mental health, and cancer. But we need additional human studies to learn more about these consequences.
Effects of CBD products
However, although CBD is typically well accepted and considered safe, it might induce unpleasant effects in certain individuals:
diarrhea 

changes in appetite
Other adverse effects documented in pediatric epilepsy studies include:
abnormal liver function tests,

sleepiness,

sedation,

and pneumonia.
These effects might be due to CBD combining with other drugs like clobazam.
In fact, CBD interacts with pain, antidepressant, seizure, and diabetic drugs. Consult a doctor before using CBD oil to ensure safety and prevent adverse interactions. Also, the market is now flooded with low-quality CBD products.
CBD is added to meals, drinks, nutritional supplements, and skin care products to help with stress, pain, and sleep concerns. That doesn't imply you should eat or drink them.
While some research shows that CBD may be beneficial for specific health conditions, dose has varied greatly. It's tough to identify the best dosage for individual health issues.
And many products include more than simply CBD. It is important to note that many herbs have the potential to interact with widely prescribed drugs. Consult a healthcare expert before using CBD products to discuss dose and other concerns.
If you do take CBD, be sure it has been checked for quality and purity by a third party. 
Summary: While CBD is typically harmless, it might produce diarrhea and lethargy in some individuals. It may also interact with some drugs, producing serious side effects.
Interactions
CBD oil may interact with some pharmaceuticals, especially epilepsy drugs.
Your body's CYP450 enzyme breaks down some medications. But CBD oil may inhibit CYP450 from operating properly. CBD oil may either enhance or diminish the effectiveness of various medications.
Among the drugs that may interact with CBD are:
ARBs similar quinidine

Tegretol (carbamazepine) with Trileptal (trileptal) (oxcarbazepine)

Nizoral (ketoconazole) and Vfend (fluconazole) (voriconazole)

Orap antipsychotic medications (pimozide)

Drugs like Remeron (mirtazapine)

Sedatives such as Klonopin (clonazepam) and Halcion (triazolam)

Immunosuppressants like Sandimmune (cyclosporine)

Clarithromycin and telithromycin

Ergomar Migraine Medicine (ergotamine)

Duragesic (fentanyl) and alfentanil are opioid medications.
Tell your doctor and pharmacist what you're taking to prevent drug interactions. Prescription, OTC, natural, and recreational medications are included.
Mild interactions may not need therapy changes. Others may need you to switch medications or space doses out by several hours.
Never modify your prescription regimen without your doctor's approval.
Recap
Taking CBD oil may cause nausea, diarrhea, or dizziness. Pregnant or nursing women should avoid CBD oil. Also, CBD oil alters the way your body breaks down some pharmaceuticals, so inform your doctor if you're taking any.
Dosage & Methods
There are no rules for using CBD oil. One or more drops of CBD oil under the tongue for 30-60 seconds without swallowing. 

There is no known "proper" CBD dosage. To treat a variety of conditions, the daily dosage might vary from 5 mg to 25 mg.

The tough aspect is figuring out how much CBD is in each milliliter. Some tinctures have 1,500 mg per 30 mL, while others include 3,000 mg (or more).

Most oils come in 30-mL dropper bottles.

Calculating CBD Dose
Remember that each drop of CBD oil equals 0.05 mL of liquids. A 30-mL CBD oil bottle contains 600 drops. If the tincture has 1,500 mg of CBD per mL, one drop contains 2.5 mg (1,500 mg x 600 drops = 2.5 mg).
Easy-to-dose capsules, gummies, and sprays are more costly.
Observations
CBD oil comes in several forms. In contrast to CBD isolates, full-spectrum oils include many cannabis components. Proteins, flavonoids, terpenes, and chlorophyll. Ayurvedic practitioners think these chemicals provide greater health benefits, although there is no proof.
In addition, since CBD oils are generally unregulated, they may not be safe, effective, or what they claim to be.
In 2017, just 31% of CBD products sold online were accurately labeled. Most had less CBD than stated, while 21% had high THC content. 10
Here are some suggestions:
Buy American: CBD oil made in the US may be safer.

Go green: Organic brands are less likely to contain pesticides and other dangerous substances.

Read the package: Assume that a full-spectrum oil's label contains only natural ingredients. You may not want or need certain preservatives, flavors, or thinning agents. Ask the dispenser or look it up online if you're unsure.
Is CBD and Hemp Oil the Same?
No way. Some people confuse hemp oil with hemp seed oil, which is utilized in cooking, food preparation, and cosmetic treatments.
THC content should be less than 0.3 percent in CBD oil derived from Cannabis indica or Cannabis sativa leaves, stems, buds, and flowers. Hemp oil is derived from Cannabis sativa seeds and has no TCH.
In summary
CBD oil has been examined for its potential to treat many common ailments, such as anxiety and neurological diseases. It may also aid heart health and alleviate discomfort.
Remember that some of these health advantages come from using CBD alongside THC, not just CBD alone.
There is still much to learn about CBD's potential usefulness and the impact it has on particular illnesses.
If you want to use CBD to treat a medical issue or improve your general health, talk to your doctor first. Depending on your needs, they may help you determine whether or not to use CBD products in your regimen.