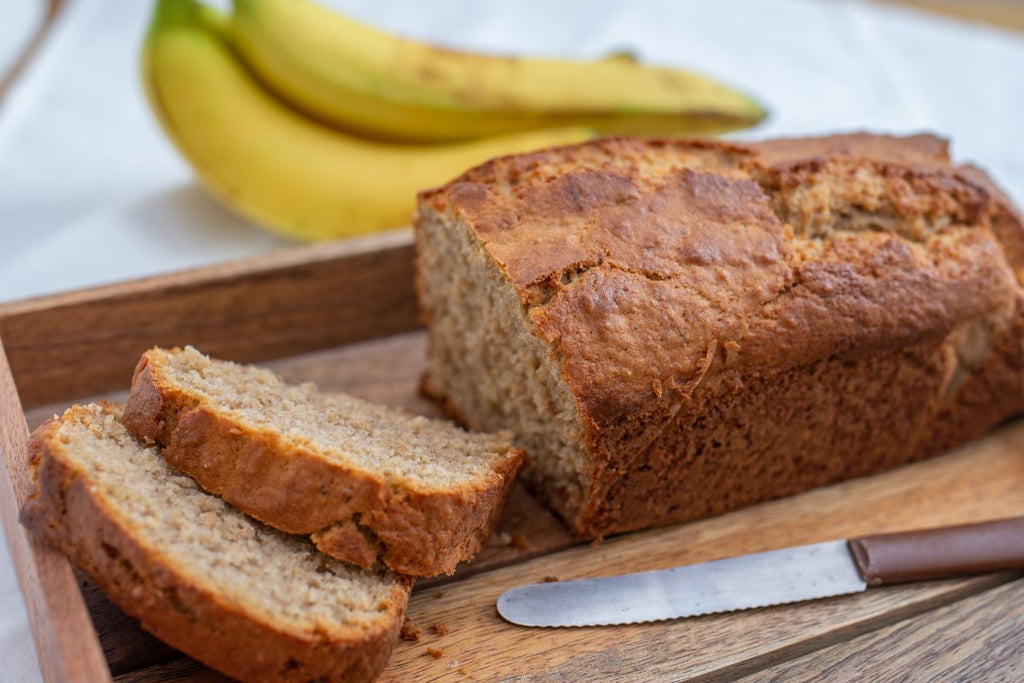 Banana Bread is the top searched recipe on many cooking websites. Thousands of people make it every day! By testing out the best combination between AVB and a classic banana bread, we discovered something surprisingly good! 
If AVB is new to you and not quite sure what it is, or how to save and use it, go ahead and check out our AVB guide. You can find the basics and some cool tricks and tips on how to get the most out of your already vaped bud. Also, you can find previous recipes here.    
For this recipe you will need some superior quality cannabutter. If you have leftovers, good! You are ready to start. If you don't have it, it might take a few hours to set things up.
For this recipe, we recommend 1 stick + 3 Tbsp of unsalted butter and 7-14g of AVB (depending on your tolerance). The step-by-step is well described in our blog. 
Other than that, If you like practicality, the batter takes no more than 15 min to be put together. And the bread stays moist for days! 
Materials:
9 x 5 x 3 loaf pan

3 bowls, one large, one medium and one small
Big hard spoon to mix or mixer
Tablespoons and teaspoons
Cup
Toothpick 
Ingredients:
12 servings, depending on the size of your slice. 
1 cup granulated sugar

2 eggs (the larger the better)

3 ripe bananas

1 tablespoon milk (or vegetable milk)

1 tsp vanilla extract

1 tsp ground cinnamon

2 cups all-purpose flour

1 tsp baking powder

1 tsp baking soda

1 tsp salt
Instructions: 
Preheat the oven to 325 degrees Fahrenheits.

Butter the loaf pan.

Cream the sugar and AVB butter in a large mixing bowl until light and fluffy.

Add the eggs one at a time, beating well after each addition.

In a bowl, mash the bananas with a fork. Mix in the milk and cinnamon.

In another bowl, mix the flour, baking powder, baking soda and salt.

Add the banana mixture to the creamed mixture and stir until combined.

Add dry ingredients, mixing just until flour disappears.

Pour batter into the prepared pan and bake 1h to 1h 10 min, until a toothpick inserted in the center comes out clean.

Set aside to cool on a rack for 15 minutes.

Remove bread from pan, invert onto rack and cool completely before slicing.

 
See, not complicated at all!
If the 12 slices are too much for you to handle, the good news is that you can freeze banana bread to preserve its fresh flavor and texture for months!
Remember that if you are not 100% sure about the right dose of AVB for you, start slow. Enjoy!