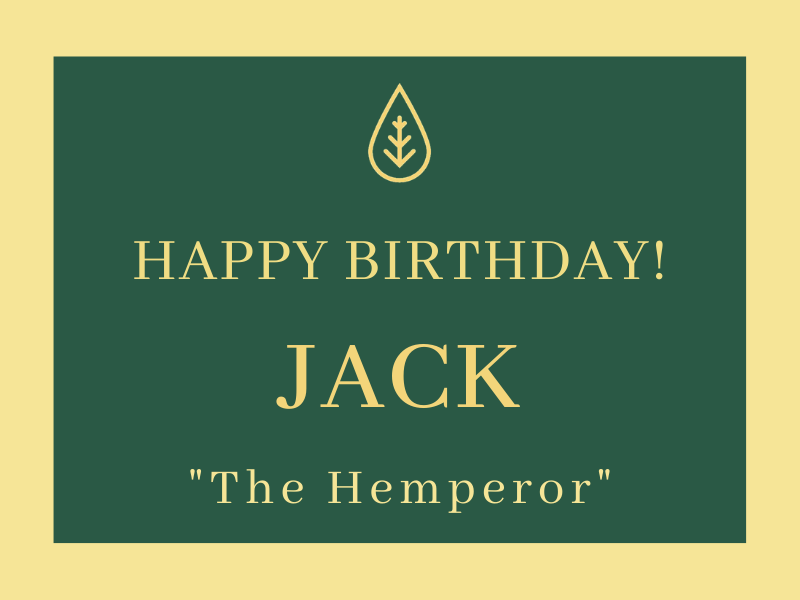 Did you know?
On June 18th, in the year 1939, Jack Herer was born. 
Who is Jack Herer?
Jack is an American cannabis rights activist and an author. Here are some of his life's work and contribution to the cannabis industry:
He fought tirelessly to legalize and decriminalize cannabis and to expand the use of hemp to be used in clothes, paper, fiber and other industrial uses.

His works also emphasize cannabis as one of our most valuable resources and to reinforce the ways in which our earth and society can benefit from it. 

He also founded the organization, Help End Marijuana Prohibition (HEMP).
Jack is the
most influential figure in the modern legalization movement of marijuana and hemp.
As such, an Annual Cup named after him is held in Amsterdam, Colombia, Jamaica, Las Vegas, Oklahoma City and Thailand to honor the Worldwide Cannabis Legalization Movement that he helped start.


The book that started the cannabis hemp revolution, The Emperor Wears No Clothes, was written by Jack Herer. 
It took Jack twelve years to research and study the uses of hemp and the benefits of cannabis, because of this $100,000 is being offered to whoever can disprove its contents and claims.
Here's an excerpt from the book:  
"If all fossil fuels and their derivatives, as well as trees for paper and construction were banned in order to save the planet, reverse the Greenhouse Effect and stop deforestation; then there is only one known annually renewable natural resource that is capable of providing the overall majority of the world's paper and textiles; meet all of the world's transportation, industrial and home energy needs, while simultaneously reducing pollution, rebuilding the soil, and cleaning the atmosphere all at the same time... and that substance is -- the same one that did it all before -- Cannabis Hemp... Marijuana!"

- The Emperor Wears No Clothes by Jack Herer
In honor of his life's work, a sativa-dominant hybrid strain of cannabis was named after Jack. It's called the Jack Herer strain and it was originally created by Sensi Seeds. To this day, a lot of seed banks have their own version of the strain, which is a popular cannabis favorite. 
Jack Herer
We celebrate you and we thank you!

Jack Herer's legacy allows the people nowadays to enjoy what he worked for all his life, the freedom to use cannabis.