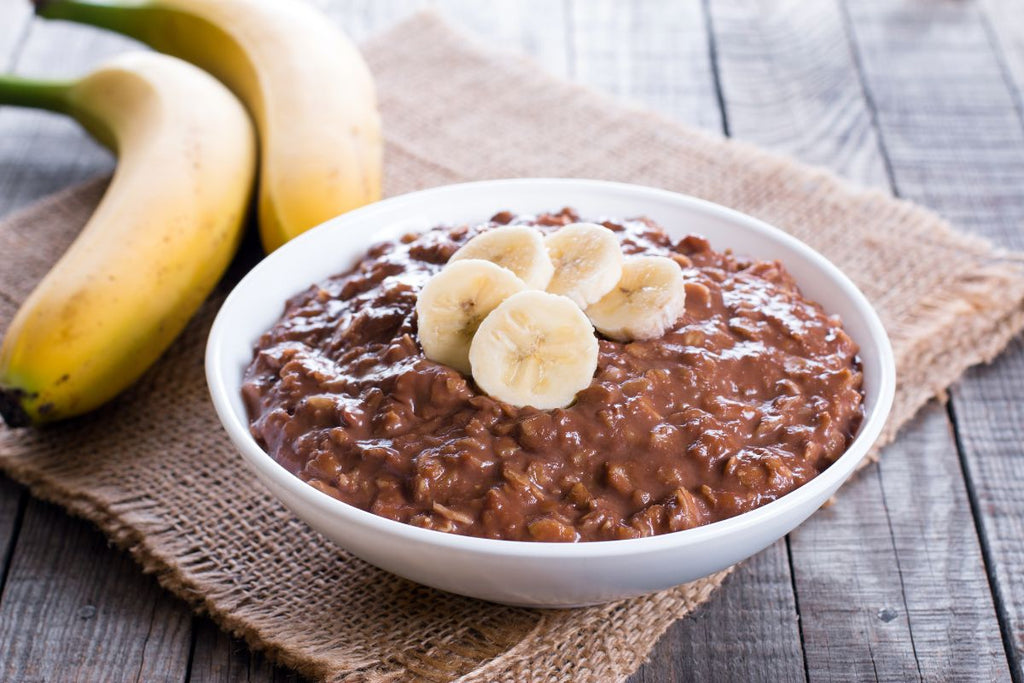 What we love about oatmeal so much is that it is cheap, healthy, delicious, and works great as a sweet or savory food. You can eat it plain, top it with fruits or nuts, you can make it with vanilla, chocolate, or cinnamon. They can be cooked in water, milk, or plant milk, so really there are a thousand ways you can make this dish, it all depends on your creativity.   
Oatmeal is such a versatile food, you can really turn it into anything you want. 
 If you go to the supermarket, you will probably see steel-cut oats, old-fashioned or rolled oats, and quick (instant) oats. All 3 types of products are great, just keep in mind that steel-cut oats take the longest to cook, because those are the least processed.
We are going to recommend old-fashioned oats for this recipe because it is still nutritious and plain but cooks faster.  
The great thing about this recipe is that it is creamy and sweet, but can be completely guilt-free. The raw cocoa powder produces a chocolatey sticky texture that feels and tastes like a chocolate pudding without tons of added sugar.
Not even mentioning that infusing it with AVB can give you a perfect high. In this case, we suggest that you have it as an afternoon treat, not as breakfast ;) 
Creamy AVB Chocolate Oatmeal
 Ingredients:  (2 servings) 
1 cup rolled oats (old-fashioned oats)

2 cups of liquid (water, milk, or plant based milk)

1 Tbsp raw cocoa powder

Sweetener (brown sugar, stevia, agave, anything you would use)

3-4 g of water cured AVB (depending on your tolerance - use 2 g if you are just experimenting) 

 
Toppings:
Mixed nuts

1 banana

2-3 strawberries

Coconut flakes

Anything you like
 Directions:
Pour the rolled oats, the AVB, and the liquid into the saucepan. 

Set the stove to medium heat and start to heat the mixture while you are stirring it. 

Add the cocoa powder and sweetener

When it starts to boil, bring the stove to low heat and keep stirring your mixture until the oats are soft. 

Adding the cocoa powder might make the mixture too thick so add a little bit more liquid if it is necessary. 

When the mixture is soft and thick, it is done. 

Put the mixture in 2 bowls and add your toppings.

 
Tip: Be creative, you can use dried or fresh fruits, nuts, nut butter, anything you like. 
Check out our other recipes that use AVB. Enjoy!