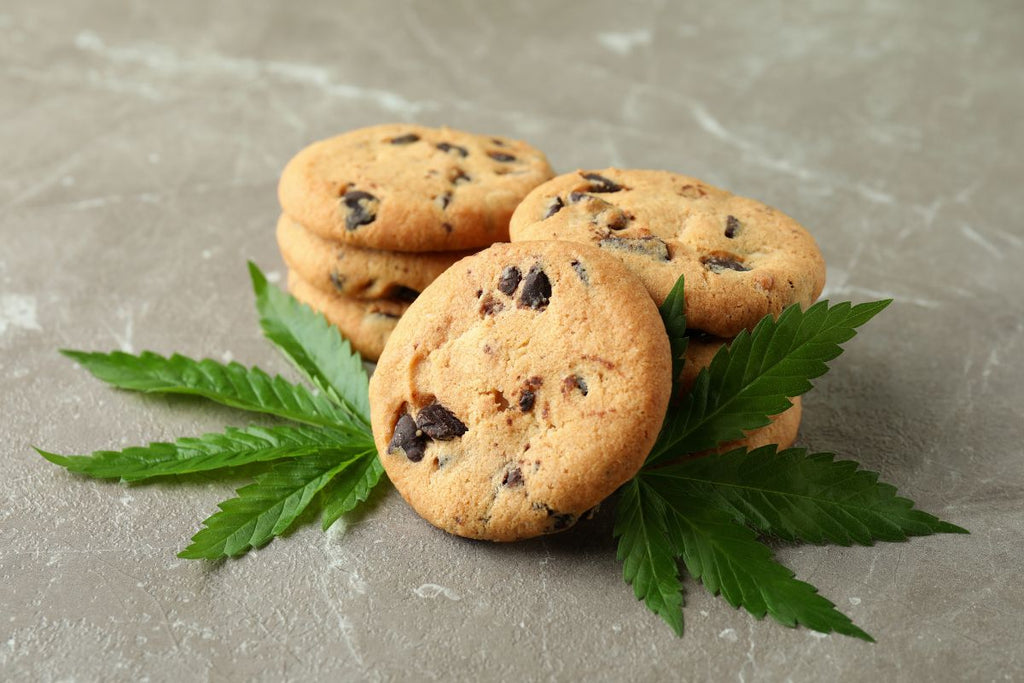 Indulging in a delightful chocolate chip cookie, especially when it's enriched with vaped buds, is a joy that can easily be savored in the comfort of your home. This straightforward recipe guides you through crafting soft, chewy cookies bursting with the rich allure of chocolate. Perfectly complemented by the blissful high, these cookies will be a treat you'll want to experience again and again.
Ingredients:
6g Already Vaped Buds (AVB)
1.5 sticks of unsalted butter (or Cannabutter for an enhanced experience)
1½ cups of all-purpose flour
1¼ tsp. salt (or ¾ tsp. for a lighter touch)
¾ tsp. baking soda
1 cup of packed dark brown sugar
¼ cup of granulated sugar
1 large egg + 2 large egg yolks
3 tsp. vanilla extract
8 oz. of semisweet chocolate chips
Directions:
Step 1: Prepare the AVB Begin by grinding the Already Vaped Buds to a fine, flour-like consistency. A high-quality grinder or mortar and pestle work well for this purpose.
Step 2: Preheat and Prepare Position your oven racks in the upper and lower thirds of the oven and preheat it to 375°F (190°C). In a small bowl, whisk together the all-purpose flour, salt, and baking soda. Set this mixture aside.
Step 3: Brown the Butter In a large saucepan, melt ½ cup (1 stick; 113 g) of butter over medium heat. Swirl the butter often and use a heatproof rubber spatula to scrape the bottom of the pan. Allow the butter to foam and then transform into a deep, rich brown color. Transfer the browned butter to a large heatproof bowl and let it cool for about a minute. Cut the remaining ¼ cup (½ stick; 56 g) of butter into small pieces and add them to the browned butter. These pieces should melt without foaming and sizzling; test with one piece before adding the rest.
Step 4: Mix the Ingredients Once the butter has fully melted, incorporate both sugars. Whisk the mixture, ensuring that any clumps are broken up and the sugars are well integrated. Add the large egg and two large egg yolks to the mixture, whisking until the sugar dissolves and the consistency becomes smooth. Introduce the vanilla extract and continue to whisk.
Step 5: Combine Dry and Wet Ingredients Gently fold the dry ingredients (the flour mixture from Step 2) into the butter mixture until no dry spots remain. Stir in the semisweet chocolate chips. The dough will be soft, but it should maintain its shape when scooped. If it appears too loose, give it a few gentle stirs and allow it to rest for 5-10 minutes for optimal hydration.
Step 6: Shape and Bake Using a 1½-oz. scoop (around 3 tablespoons), create 16 cookie dough balls and arrange them on two baking sheets lined with parchment paper. While baking, rotate the sheets if you notice uneven browning. The cookies should bake for 8-10 minutes until they achieve a deep golden brown hue and become firm around the edges. After baking, let the cookies cool on the baking sheets.
Conclusion: Embrace the delightful combination of flavors and experiences by relishing these cannabis-infused chocolate chip cookies. Whether enjoyed on your own or shared with friends, these treats will not only tantalize your taste buds but also provide a soothing high that enhances the entire culinary journey.